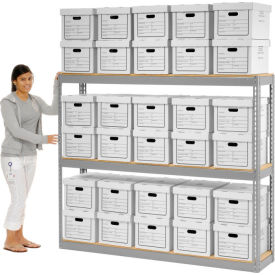 Record Storage Center - 36", 60" & 84" High
Record Storage Center - 36", 60" and 84" High Accommodates Storage and Shelving.
Record storage center - 36", 60", and 84" high support loads of bulk storage with thick particleboard decks. Rugged, sizable 200 test corrugated transfer file box with double thickness front and back walls help keep records protected and neatly organized. With tightly fitting lids, they keep out dust and dirt. Large printed label area for quick identification of contents and hand holes for easy lifting. Boxes store securely on rugged 5/8". Heavy-gauge steel rack assembles without tools.
Purchase additional
Transfer File & Record Storage Boxes.