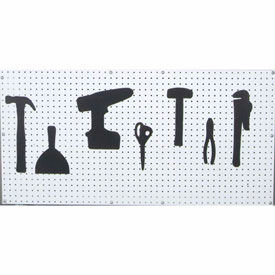 Shadow Board Tape Rolls
Shadow Board Tape Rolls Provide an Outline Design for Tools and Equipment in Garages, Sheds, Workshops, and more.

These rolls are made of vinyl for long lasting durability and dependability. Rolls allow tool and work item silhouette design. Tools and equipment are traced, cut, peeled and attached to shadow board for item placement. Vinyl overlay can be repositioned when tools are moved. Type is Tool Silhouette. Package quantity is 1. Colors are Black, Blue, Green, Grey, Orange, Red, White and Yellow. Dimensions are 60"L x 12"W x 20mm D.