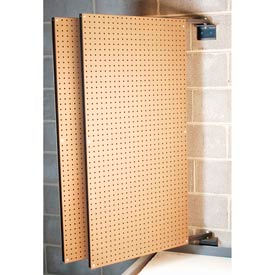 Double Sided Wall Mount Swing Panel Systems
Double Sided Swing Panels Are Designed To Fit Large Amount Of Tools Into A Fraction Of The Normal Required Space.

Swing panels utilize a turnkey system for flexible layout, placement and unlimited growth capabilities. Double sided panels feature heavy duty steel framing that mounts to cement block or wood stud environments. Pegboards are made of 1/4" thick tempered pegboards. Includes hardware for installation. Accepts standard peg hooks and DuraHook™ Peg Hooks (sold separately).