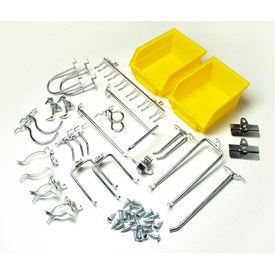 Pegboard - Hooks & Brackets
Pegboard Hooks and Brackets Are Suitable For Garages, Workshops, Utility Rooms, Kitchens, Retail Stores, Showrooms and more.

Pegboard hooks and brackets attach and hold compatible products by suspension. Assorted packs or individual hooks available in a variety of types. "S" shape hooks are ideal for displaying carrying items such as tote bags and handbags. Micro and lightweight design allows for easy accessory storage in bins or tool compartments. Most models are chrome or zinc plated for corrosion and scratch resistance. Hook sizes, dimeters, and styles vary per model.