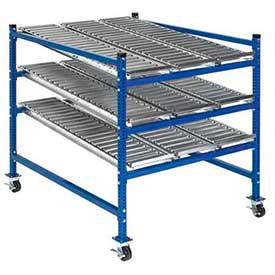 Mobile Gravity Flow Racks
Mobile Gravity Flow Racks Allow Ergonomic Content Storage and Access In Warehouses, Factories, Plants, and more.

Mobile gravity flow racks provide highly efficient stock picking systems for assembly lines. Items feed from back and roll to front to save loading time. Select flow racks include 3 levels of 15"W roller tracks and are height adjustable at 1" increments. (36 W Flow Racks include 2 roller tracks per level; 48 W Flow Racks include 3 per level). Mobile flow racks feature a weight capacity range per level of 700 – 2,400 lbs. depending on the model. Models that allow mobility feature rugged 4"dia. x 2" thick swivel casters and include side brakes for locking position. Limited Warranty and dimensions vary per model.