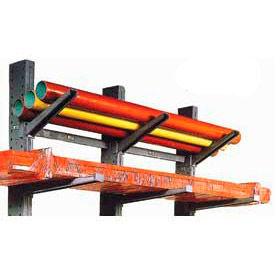 Global Approved (2000 Series) Arms - Straight & Inclined - 2400 Lb Max. Capacity
MECO (2000 Series) Arms - Straight and Inclined - 2400 Lb Max. Capacity Straight and Inclined Upright Cantilever Arms Create Sturdy Storage and Shelving For Long Bulk Items In Factories and Warehouses.

MECO (2000 Series) arms - straight and inclined - 2400 lb max. capacity are designed with heavy gauge steel for lasting support. Cantilever rack arms adjust at 3" increments on uprights. "Pin keepers" are included to allow easy, tool free height adjustments and secures installation to cantilever uprights. Straight Arms are used for storing lumber and other long, flat items. Inclined Arms have a 20 degree incline made for storing bar stock, pipes and other long, round storage items. Available load capacities range from 600 to 2400 lbs. Color finish is Gray Enamel. Dimensions vary per model.

How to order:
1. Determine arm length and type desired. Note: Arm capacities are based on evenly distributed loads.
2. Purchase desired amount of arms needed for uprights. Note: Must purchase two arms per level of starter unit; one per level of add-on unit.