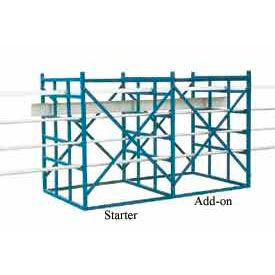 Welded Bar Storage Racks
A Highly Cost Effective Way To Store Up 15,400 Lbs. Of Bar Stock, Pipe Or Other Long, Heavy Items.

Bar storage rack includes 5 levels of graduated size vertically by 3 sections across. Made from welded steel with blue powder coat finish. Add-On Unit adds 7,700 lbs. of capacity and 48" in length to Starter Rack. Easy Assembly.