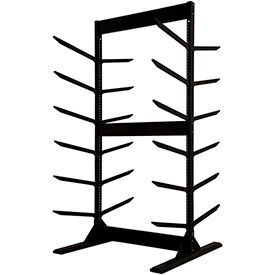 Rousseau - Stock Racks
Rousseau Stock Racks for Automotive Applications Include Support Arms used for Storing Bumper Covers for Small Cars and Trucks on One Rack.

Rousseau Stock Racks allow hanging storage of a multitude of items. Durable steel uprights allow arm height adjustment for customizable configurations. Wall Mount Stock Racks include 6 pairs of arm supports and 2 wall mounted uprights with up to 300 lb. capacity. Double Sided Racks include 85-1/2 H stand with 12 pairs of arms. Double Sided racks are available with choice of anchoring kit, adjustable leveling feet or 4 casters (2 rigid, 2 locking swivel). Floor Rack w/Casters have up to 500 lb. capacity. Features 6 double sided levels with 12 pairs of bumper supports and 4" casters, 2 rigid and 2 swivel with total lock break. Levels are adjustable in height. Black finish.