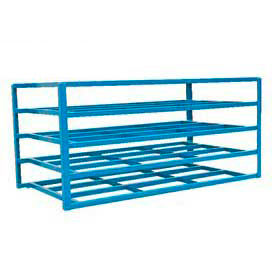 Horizontal Sheet Rack
Horizontal Sheet Rack Stores Sheet Goods And Other Flat Materials With Ease.

Horizontal sheet rack stores item flat to reduce warping of thin materials. 5 fixed height shelves allow organized storage with 9-1/2 H shelf clearance. All welded steel frame provides 2000 lb. capacity. Open ends allow access from all sides. Includes lag down bolts for anchoring. Sheet rack measures 103 L x 55 W x 48 H overall.