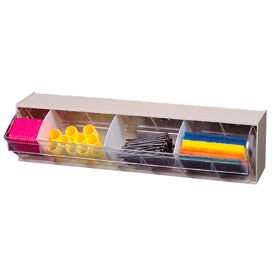 Dividable Tip Out Bins
These Tip Out Bins Are Dividable To Create Customizable Partitions And Compartment Sizes.

Used for storing various parts and supplies for the home, office or workspace. Made using clear, break resistant injection molded plastic drawers with a polystyrene cabinet. Drawers tip out smoothly at a 45° angle and are removable for easy access and refilling. Molded handle on front includes label slots for identifying contents. Includes removable, adjustable dividers to create compartment sizes that meet your needs. Bins can be stacked to create a tip out bin system. Available in 3 sizes. Additional Dividers Available.