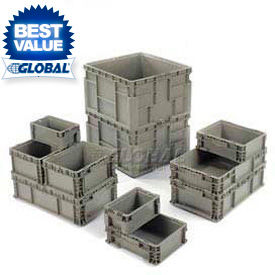 Global Industrial™ Stackable Straight Wall Containers
Straight Wall Containers - Stackable - Best Value Supply Storage Options For Materials and Small to Moderate Size Supplies.

Straight wall containers - stackable - best value provide storage and can be stacked under containers of various sizes.

Straight-wall sides of these pallet containers securely and efficiently fit on standard sized pallets. Wholesale storage containers have reinforced corners and a 150 lb. capacity to handle heavyweight items. Shipping containers have comfort grip handles for easy pick-up and handling. Efficiently transport goods or work in progress.

Optional dolly base has a durable plastic frame with 4 swivel mold-on rubber casters. Measures 27-1/2"L x 18"W x 3"H with a 650 lb. capacity. Dimensions vary per model.