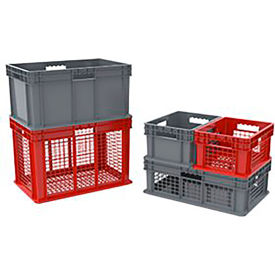 Global Industrial™ Stackable Pallet Containers
Global Industrial™ Straight Wall Stackable Pallet Containers Create a complete storage system or use individually to keep a variety of components and inventory stored compactly. These heavy-duty cost effective, reusable containers are ideal for manufacturing, transporting and storing products. Inter-stackable, reinforced straight wall design allows you to maximize storage space by cubing in trucks and on pallets. Ergonomically designed containers feature comfortable grip hand holds on all four sides for quick and easy pick-up. Strong 1" wide stacking rims and external ribbing provide added strength.

Mesh-sided Containers have an open .72 x .9 mesh pattern which allows high visibility and good airflow.Solid-sided Containers keep small items in and provide a smooth inner walls for easy, sanitary cleaning.