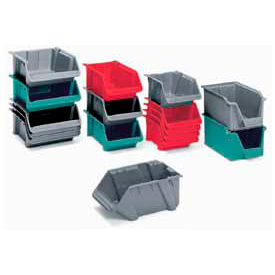 Lewisbins Fiberglass Stack & Nest Hopper Bins
LewisBins Fiberglass Stack and Nest Hopper Bins Provide Strength and Tough Characteristics used for Heavy Parts Storage and Hardware Merchandising.

These storage bins nest within their own dimensions and provide positive lock stacking. Hopper bins hold up to 500 lbs. These bin boxes withstand temperatures from -60°F to 300°F and can be autoclaved. Part bins also resist most oils, moisture, solvents and chemicals. Front label area accommodates adhesive labels. Fiberglass hopper bins sold in carton quantities.