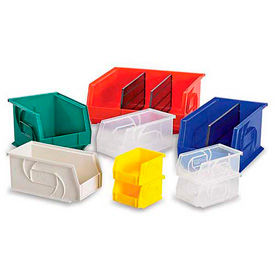 LewisBins Polypropylene Stacking Bins - Promotional Price!
Hard-wearing Polypropylene Stackable Bins Are Designed To Last And Provide Excellent Value.

These bin boxes have a hopper front that permits easy viewing and parts retrieval. Part Bins are molded to stack safely, provide ample label area and securely hold optional dividers. Industry standard sized plastic bins fit most shelving and louver systems. Storage bin dividers sold separately.