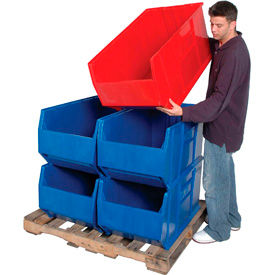 Quantum Hulk, Magnum and Rack Stacking Bins
Quantum Hulk, Magnum and Rack Stacking Bins Help Organize Bulky Items in Warehouses, Assembly Lines, Maintenance Areas, and more.

24, 30 and 36" Deep Jumbo Hulk Stackable Bins and Magnum Bins feature reinforced walls on these plastic storage bins add strength and rigidity and a wide top ledge permits stable, higher stacking. These plastic bins are constructed of water and corrosion proof polypropylene. Stackable bins withstand freezers and autoclaves from -40°F to 250°F. Anti-slide stop prevents storage bins from shifting when stacked. Slotted label holders allow easy identification of contents. These jumbo stackable bins cannot be hung on louver panels or rail systems. Stacking bins are available in Blue, Red or Yellow.

Optional Black Dividers maximize flexibility and keep contents organized. Clear Windows increase bin capacity and provides a quick view of the bin contents.

RackBin™ Extra Large Pallet Rack Containers Are Specifically Designed To Fit Pallet Racks. Extra large bins offer a generous 41-7/8" length to store larger items and ensure full use of space on 42"D racks. Heavy duty front, back and side grips allow easy handling. Wide stacking ledge and anti-slide locks allow secure stacking and prevent forward shifting. Base includes eight 1/4" drill hole patterns for easy hole insertion that allows drainage and air circulation. Waterproof bins are corrosion free. Bins have a large label area on front to allow easy identification. RackBin™ are available in Gray and Blue.