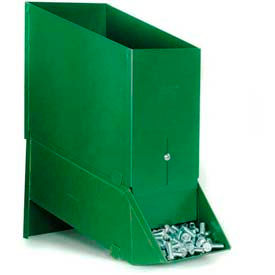 Steel Assembly Bin & Hopper Units
Steel Assembly Bin And Hopper Units Provide Flexible, Vertical Storage Space.

Steel Assembly Bin And Hopper Units are made using 20-gauge spot welded steel for long lasting durability. The baked enamel finish inhibits rust and corrosion. Steel Bins of the same size are stackable to create a semicircle pattern when arranged side-by-side to ensure inventory is easily accessible. Steel Bins and Hoppers are made with to stack securely, creating vertical storage space. Bins and Hoppers are available in 6 different sizes and come in Gray, Blue, Green or Black.