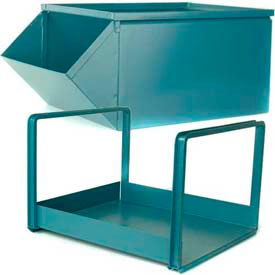 Single and Double StackRack With Optional Steel Bins
Single And Double StackRacks Create Customized Storage Solutions.

Single and Double Stackracks are made with spot welded steel for long lasting durability. The patented Stackbin® locking system provides safe, secure stacking without tools or fasteners. Stackracks allow boxes or bins to be easily removed at any time. Single and Double Stackracks are available in a variety of sizes to support single-sided or double-sided hopper bins. Roller Bearing Stackracks are made with a roller bearing tray for quick access to containers. Steel Hopper Bins (sold separately) are made with angled openings, displaying contents. Boxes are available in 8 sizes. Colors are Gray or Black. Bin Dividers (sold separately) feature a T-shaped build that adjusts to customize divisions within the container.