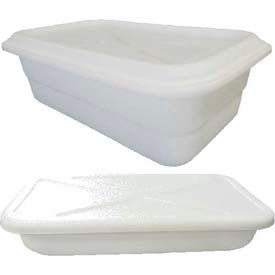 FDA and USDA Approved Totes
The FDA and USDA Approved Totes Are Designed Specifically For Food-Handling And Processing.

All containers are constructed of sturdy, nature white, high-density polyethylene plastic and are USDA approved. The totes are easy to clean and resistant to extreme temperature. Polyethylene plastic containers withstands temperatures from -100 degree to 190 degree Fahrenheit. Add option Lid protects contents and option Spacer Tray to prevent the load from shifting in transit.