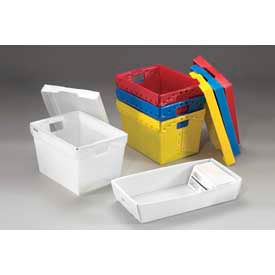 Corrugated Plastic Nesting Postal Totes
Corrugated Plastic Nesting Totes - Lightweight, yet Tough, Easy to Clean. Nests for Space Saving!

Corrugated Plastic Totes feature sonic welded seams and steel rod reinforced at the top for added strength and rigidity. Easy to clean, resistant to dirt, moisture and grease. Convenient hand holes for easy carrying. Nests for space saving storage. The Mail Tote meets US Postal Service requirements. Measures 18-1/2"L x 13-1/4"W x 12"H. Lid protects contents from damage and dust. Add color suffix when ordering Blue(BL), Red(RD) or Yellow (YL).

Corrugated Plastic Mail Tray features folded, doubled sidewall construction. Nest together to save space. White color only. Measures 24-1/2"L x 12"W x 4-1/2"H.