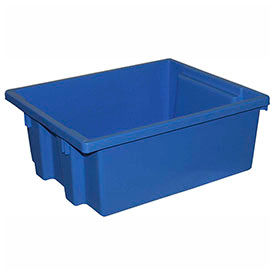 Techstar Nest & Stack Tote Containers
Techstar Nest And Stack Tote Containers Are Used For Applications Including Storage, Commercial, Industrial, And More.

Techstar nest and stack tote containers are made of polyethylene for long lasting dependability and corrosion resistance. Containers provide organized content storage and stability. Units are stackable and nestable for ergonomic storage and reduced footprint. Reinforced lip ensures unit strength and durability. Weight capacity is 30 lbs. Colors are Blue and Yellow. Dimensions are 15-1/4"L x 12-1/4"W x 6"H.