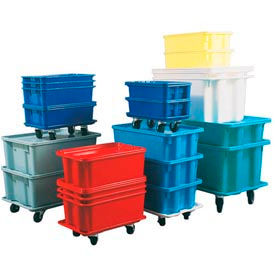 Molded Fiberglass Super Tuff Fiberglass Stack And Nest Tote
MFG Tray's Toteline™ Nest and Stack Containers Provide Easy, Durable Stacking Storage for Hot Castings and more.

MFG Tray Toteline™ nest and stack containers stack when full and, with a simple 180-degree turn, nest when empty. They are frequently used to handle hot castings or rubber parts coming directly from molds, as well as parts that are subjected to cryogenic treatments after molding. Containers have a smooth outside surface and radial edges for safe, easy handling. The fiberglass containers are ideal for machine integration and robotic applications, and can be used continuously in temperatures ranging from -60° to 250° F (-51° to 121° C) and intermittently in temperatures 300° F and higher. Glass-reinforced thermosets increase in impact strength as temperatures decrease, and MFG Tray products have performed well in temperatures as low as -190° F. Standard formulations are impervious to radiation, cutting oils, greases, solvents, detergents, mild acids and alkaline solutions within a pH rating of 3.0 – 10.0. Optional Lids are available to protect contents from damage or contamination, and containers may be stacked when lids are applied. Optional Dollies are also offered to simplify transport throughout the work facility.