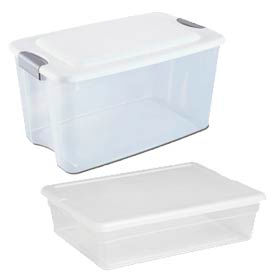 Clear Storage Totes With Lid
Clear Storage Totes With Lid Allows Practical, Efficient Storage For Any Light Duty Applications.

Clear Storage Totes are made using a white plastic lid with clear transparent plastic container for easy viewing of contents. Choose either Latching Recessed Lid with Ergonomic Latches or Snap Lid to keep items securely in place. Recessed lid ensures secure stacking. Integrated handles with contoured ends for easy lifting. Lids feature an indexed surface area for stability when stacking units. Sold in carton quantity.