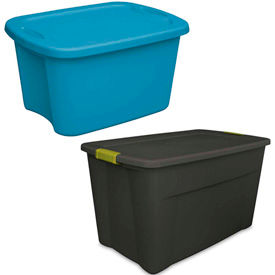 Stack And Nest Industry Storage Totes With Lids
Tough Molded Plastic Totes Store A Wide Range Of Industrial Parts, Components And Materials.

The carry handles of the Snap Lid Totes have interlocking tabs with snap lids help protect contents from spillage and contamination. The Latch Totes feature an innovative color-accented latch design that provides a comfortable grip and securely holds the lid to the container. The indexed lid design creates exceptional strength and stability when stacked. For positive stacking, boxes nest snugly into recess in lids. Ribbed walls add extra rigidity. Sold in quantities. Color finishes are True Blue/Blue Aquarium, Hazelwood, Gray, and more. Dimensions vary per model.