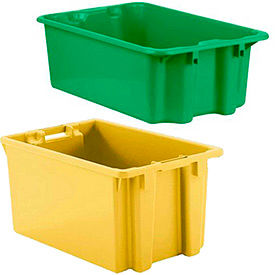 SSI-Schaefer Stack and Nest Totes
SSI-Schaefer Stack and Nest Totes Are FDA Approved For Foodservice Procedures.

SSI-schaefer stack and nest totes are built with high-grade, high-density polypropylene to provide lasting durability and safe storage of food items. Reinforced rims, rounded edges and corners, and smooth inner surfaces provide optimal performance. Totes stack and nest for easy storage. Available styles are Closed Handles or Open Handles. Units are FDA approved. Colors and dimensions vary per model.