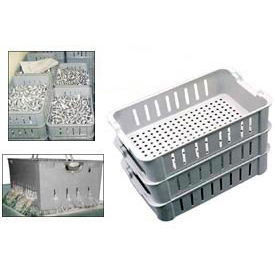 Molded Fiberglass Reinforced Fiberglass Wash Boxes
Reinforced Fiberglass Drainage Wash Boxes, 150 lb capacity per box.

Strong and rugged gray fiberglass composite boxes feature 1/4" diameter holes in bottom and 2-1/2" x 5/16" side slots to permit drainage and ventilation. Used for parts washing and storage as they withstand hot water, steam, detergents, oils, grease, degreasers, cutting oils and continuous use in temperatures up to 350°F. Composite material protects valuable parts and delicate finishes from marring. Reinforced construction provides 150 lb. capacity. Choose nesting and stacking models or stack only models to protect contents. Model 239240 features a solid bottom with slats on the side only.