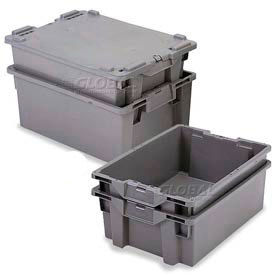 Nest And Stack Pallet Container Systems
Plastic Containers Feature An Integrated System Of 180° Stack And Nesting For Compact Storage And Transport.

Gray plastic containers are created specifically for 40 x 48 pallets. Used for use in general manufacturing, work-in-process handling, general merchandise distribution, food distribution, agricultural harvesting and mechanical parts washing. Solid walls and sides for a leak-proof interior that is easy to clean. Label areas for content identification. Allows 180° nesting when empty for compact storage. Handles for easy lifting. Measures 23-5/8"L x 15-3/4"W footprint. Optional Lid protects contents and allows stacking. Plastic Dolly allows mobility of stacked containers.