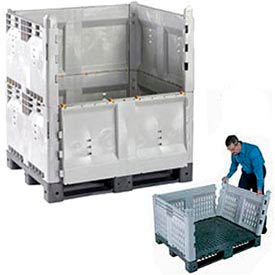 Quick Assembly Pallet Containers
Quick Assembly Pallet Containers Reduce Return Shipping Costs While Providing Convenient Stations For Bulk Storage.

Quick assembly pallet containers are designed for agricultural, pharmaceutical, industrial, and food service environments. These USDA approved, high density structural foam polyethylene bulk plastic containers resist rust, chemicals, rotting, and warping. Most large plastic storage containers withstand temperatures from 0°-140°F. Select units feature interlocking sides that disassemble in seconds with a quick-release safety latch and lock back together securely without special tools, saving up to 75% of space on return shipping. Some storage containers stack up to 6 high with patented interlocking corners and allow 4-way fork entry. Available Colors are Gray. Available Types are Solid Wall or Vented Wall containers. Caster Models have 6" plate casters (2 swivel, 2 rigid) with reinforced dolly base that allows stacking. Outside dimensions and additional specifications vary per model.