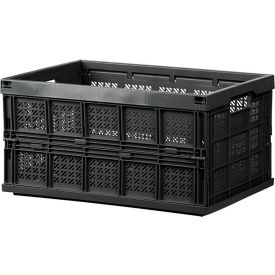 Folding Transport Containers
Folding Shipping Containers Are Collapsible, Stackable, and Help Save Space.

Folding transport containers provide up to a 5:1 reduction ratio in shipping volume when containers are empty and folded. Sturdy gray plastic containers include comfort grip ergonomic handles and a large label area with cardholder. Gray Solid Wall Containers are designed to fit on a standard 48" x 45" pallet footprint. Black Mesh Containers are light weighted containers for assembly area, car trucks. Allows secure stacking when folded and when in use. Dimensions vary per model.