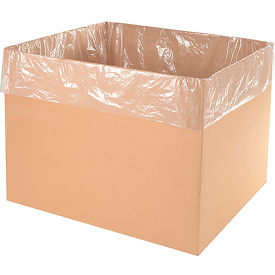 Industrial Gaylord & Container Clear Liners and Covers
Industrial Gaylord and Tote Bin Liners Provide Clean, Lightweight Protection for Storage, Packaging And Shipping.

Industrial Gaylord And Tote Bin Liners are made from polyethylene for clean, long lasting durability. Large translucent bags are used for lining containers, gaylords, boxes, tote bins and drums for assembly, storage or shipment. Available in thicknesses of 2mm, 3mm and 4mm. Liners are sold in packages (rolls) of 25, 40, 50 and 60.