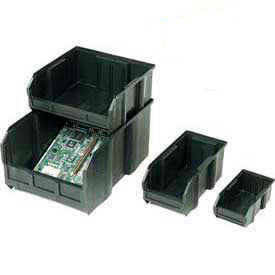 Conductive Stacking Bins
Conductive Stacking Bins Protect Electronic Components Accept Tools and Pieces In Need of Safe Storage.

Conductive Stacking Bins are suitable for packing and securing sensitive, electrical equipment. Most conductive bins protect electronic parts from static electricity and electromagnetic interference (EMI) with carbon filled copolymer polypropylene construction provides a barrier that these fields cannot penetrate, and also prevents the buildup of electrostatic charge. Available Styles are Option Dividers. Select models include ESD label on the base for visual assurance of ESD protection. Most bins are chemical, oil and grease resistant. Some units are tested to meet Mil Spec Mil-B-81075B and feature surface resistivity less than 105ohms/sq. when tested per ASTM D257. Wide ledge provides easy stacking. Dimensions vary per model.