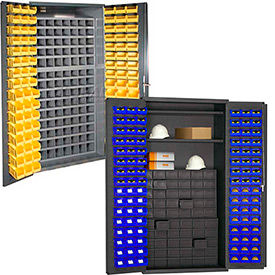 All-Welded 14 Gauge Small Parts Storage Bin Cabinets
Small Parts Storage Cabinets Securely Hold Small Items for Automobile, Assembly Lines and other Warehouse Applications.

Small Parts Storage Cabinets are made of heavy duty all welded 14 gauge steel for long lasting durability. Fully welded piano hinges provide a door load capacity up to 650 lbs. Includes 3-point locking system with keyed handle and lock rods for additional security. Louvered panels on doors for hang on bins. Cabinets ship fully assembled. Available 96-bin styles are With Pegboard, With 112 Compartments, and With 60 Drawers. Color finish is Gray Powder Coat.