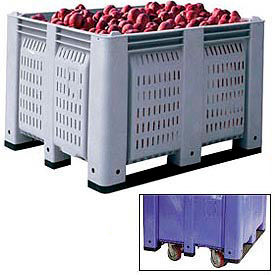 Stacking Pallet Containers - USDA Approved
Stacking Pallet Containers - USDA Approved Are Suitable For Agricultural, Pharmaceutical, Industrial, and Foodservice Use.

Stacking pallet containers accept bulk contents that need convenient transportation and feature USDA approved high density polyethylene structural foam containers that resist rust, chemicals, rotting and warping. Most stacking pallets can withstand temperatures from 0°-140°F. 4-way fork entry. Models stack easily with patented interlocking corners and are available with solid or vented sides. Available Colors are Gray, Ivory, and more. Caster Models have 6" plate casters (2 swivel, 2 rigid) and stack with reinforced dolly base. Available Weight Capacities are 1,200, 1,300, 1,500 and 3,000 lbs. depending on the model. Dimensions and additional specifications vary per model.