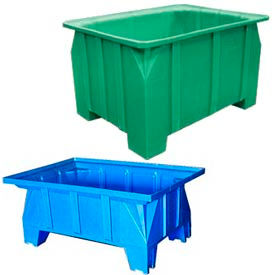 Stacking Pallet Containers
These Stackable Containers Are Great For Loading Products & Supplies For Easy Fork Truck Transport.

Stacking pallet containers provide an economical alternate to pallet and pallet wrapping. Stacking containers are made of impact resistant seamless polyethylene that is easy to clean. Molded side ribs provide extra strength under heavy loads. Wide ledges on top rim allow secure stacking of containers. Base allows forklift entry for easy transport using pallet trucks and forklifts. 442586 features a double walled smooth design with flat bottom interior. Purchase Optional Lids to protect contents from dust and debris. Domed Lid acts as a dust or weather cover to reduce rain, water and snow build-up. Domed lid does not allow stacking. All models are available in Gray, Red, Blue, Yellow or Green. Sold in quantities of 5. All models are non-returnable.