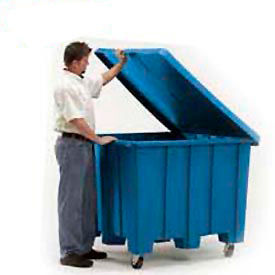 Plastic Gaylord Pallet Container
Plastic Gaylord Pallet Container Is A Versatile Alternative to Cardboard Boxes or Steel Containers For Material Handling Storage or Transport.

Plastic gaylord pallet container protect and carry large quantities of material handling contents. Rotationally molded linear polyethylene provides lasting durability. Plastic pallet container is waterproof, rust proof and UV treated for strength and added structural integrity. Pound capacity is 650 lbs or 1200 lbs. Available styles include With Lid or With Lid and Casters. Base allows 4-way forklift access. Container without Casters allows stacking up to 3 high fully loaded with lid. Container with Casters include heavy duty 4 swivel casters. Colors and additional specifications vary per model.