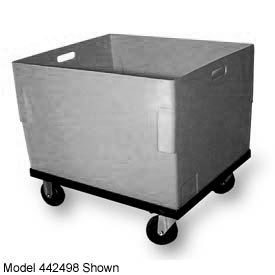 Plastic Containers With Dolly
These Rolling Parts Bins Feature Molded Plastic Bins That Easily Lift Off From Steel Dollies To Transport And Handle A Variety Of Materials.

Large molded gray plastic containers include steel dollies to transport filled containers with ease. Great for moving stock, supplies, laundry and other large quantities of bulk items. 600 lb. capacity. Steel dolly features raised edges to retain container during transport. Moves easily on 3 polymer tread casters (2 rigid, 2 swivel). Tapered Containers are nestable when empty.