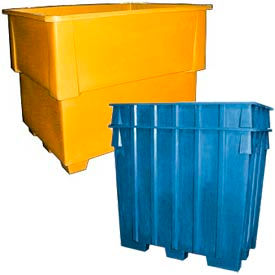 Nesting Pallet Containers
Nestable Containers Provide Convenient, Compact Storage When Empty And Allow Easy Fork Truck Transport.

Plastic pallet containers are used for textile and food handling applications. Nests to help reduce return shipping costs. Nestable pallet containers are made of impact resistant seamless polyethylene that is easy to clean. Molded side ribs provide extra strength under heavy loads. Molded nesting stops help prevent jamming when nested. Base allows forklift entry for easy transport using pallet trucks and forklifts. 442575 can be dumped using a rotating forklift. Molded rails allow use on racking and conveyor systems. Optional Lids protect contents from dust and debris and allow stacking up to 2 units high when in use. All models are available in Gray, Red, Blue, Yellow or Green. Sold in quantities of 5. All models are non-returnable.