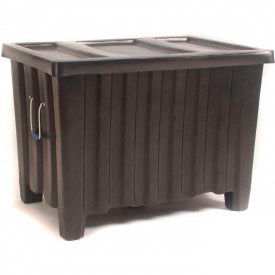 Myton Bulk Containers - Shipping And Storage
Bulk Containers - Shipping And Storage Provide Ease For Shipping and Storage For Material Handling and more.

Bulk containers - shipping and storage contain and protect large quantities of materials. Bulk Containers with or without lids are made with 100% recyclable plastic that resists chemicals, corrosion and impact, provides lasting durability. Rotationally molded containers in particular are seamless, making the containers adaptable to virtually every industry. Ribbed Wall reinforced construction provides maximum durability. The wall design also allows these rugged containers to be lighter in weight without compromising strength, stacking ability or the security needed for today's demanding shipping and storage requirements. Lower weight provides increased handling efficiency. Fork entry is Two Way or Four Way. Containers stack 3 high for space-saving. Some sizes Include factory installed carrying handles and lid. Variety of colors available. Dimensions vary per model.