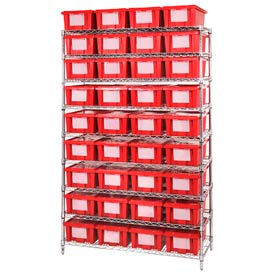 Chrome Wire Shelving With Nest And Stack Shipping Totes
Attractive Chrome Shelving Features Nest And Stack Totes That Are Used For Archival Storage And Inventory Control Applications.

Chrome wire shelving offers an attractive finish that's suitable for retail environments. Chrome wire shelves feature truss perimeter for extra strength and reinforcement while allowing light, air and sprinkler penetration. Open wire design helps reduce dust accumulation. Stack and nest totes are made of injection molded, high density polyethylene that complies with USDA and FDA regulations. Will not rust, corrode or bend. Plastic shipping totes are chemical resistant and waterproof. Allows stacking and 180° nesting for compact storage. Add mobility to your Shelving unit with Optional Caster Kits. Easy assembly.