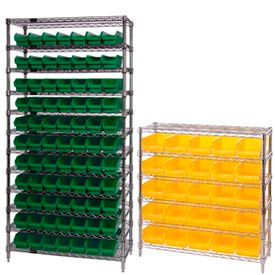 Chrome Wire Shelving With Plastic Shelf Bins
Attractive Chrome Wire Shelving Includes Shelf Bins With Hopper Front Opening Designed For Easy Shelf Access.
Chrome wire steel shelving offers an attractive appearance that's used for retail and display applications. Heavy duty chrome wire shelving offers 800 lb. shelf capacity. Chrome wire shelves feature truss perimeter for extra strength and reinforcement while allowing light, air and sprinkler penetration. Open wire design helps reduce dust accumulation. Shelf bins are made of FDA approved polypropylene with hopper front for access and visibility to contents. These 4 H plastic bins have slotted label holders for content identification. Plastic shelf bins nest when empty to save storage space. Shelving measures 36 W. Add mobility to you shelving units using
Optional Caster Kits
(sold separately).
Shelf Bin Size Reference
| | | | | | |
| --- | --- | --- | --- | --- | --- |
| | 2-3/4"W | 4-1/8"W | 6-5/8"W | 8-3/8"W | 11-1/8"W |
| 11-5/8"D x 4"H | A4 | B4 | C4 | D4 | E4 |
| 17-7/8"D x 4"H | F4 | G4 | H4 | I4 | J4 |
| 23-5/8"D x 4"H | K4 | L4 | M4 | N4 | O4 |
| 11-5/8"D x 6"H | A6 | B6 | C6 | D6 | E6 |
| 17-7/8"D x 6"H | F6 | G6 | H6 | I6 | J6 |
| 23-5/8"D x 6"H | K6 | L6 | M6 | N6 | O6 |
| 11-5/8"D x 8"H | A8 | B8 | C8 | D8 | E8 |
| 17-7/8"D x 8"H | F8 | G8 | H8 | I8 | J8 |
| 23-5/8"D x 8"H | K8 | L8 | M8 | N8 | O8 |