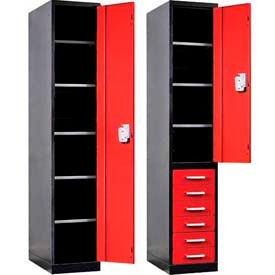 Hallowell Fort Knox Locker Cabinets
Hallowell® Fort Knox Single Locker Cabinets Are Used For Storing Personal Belongings Or Supplies.

Fort Knox Single Locker Cabinets are made of heavy gauge steel and coated with textured two-tone black and red powder coat finish for long lasting durability. Adjustable Rivetwell shelving, heavy-duty, all-welded cabinets, workbenches and locker/drawer units provide functionality and modularity to create customized workspace. Each major comopnent can be used as a stand alone or in conjunction with other components. Cabinet measures 18"-24"W x 24"D x 78"H. 2, 4, and 6 openings, 3 and 6 adjustable shelves. Available in Red outer, black inner.