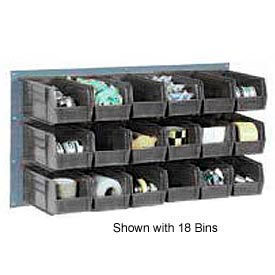 Wall Panels With Conductive Bins
These Conductive Louvered Panels Resist Static Build-Up To Convenient Store Sensitive Electronic Equipment Including Computer Hardware.
Louvered panel is pre-drilled to allow easy wall mounting (hardware not included).Louvered wall panels are made of durable heavy gauge steel with powder coat finish. Panel offers 175 lb. capacity. Louvers hold a variety of different plastic stacking bins to provide optimum storage for multiple uses. Wall panels include conductive stacking bins that help protect electronic components. Carbon filled copolymer polypropylene bins easily hang off of louvers for easy attachment and removal.
Note:
Make sure all racks are properly grounded according to application.
Click
Here
to check our selection of Conductive Stacking Bins.