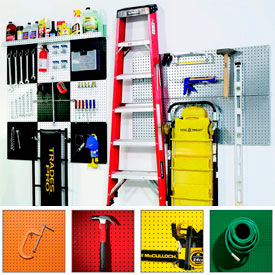 Alligator Board - Metal Pegboard Panels & Accessories (Assorted Colors)
Alligator Board Pegboard Panels And Accessories Are Suitable For Storage And Organization In Garages, Workshops, Kitchens, Retail Stores And More.

Alligator Board Pegboard Panels And Accessories are made of heavy-duty 20-gauge steel for long lasting durability. Rust resistant and strength-reinforcing dimpled holes provide areas for wires or plugs to run as well as standard hooks. Holds up to 90 lbs. Easy install. All hardware included. 5-Year Limited Warranty. Available in a variety of panel and strip sizes. Each pegboard kit comes with two 16" x 32" x 5/8" deep metal panels covering a 32" x 32" area. Mounting hardware included (4 screws per panel). Color finishes include Aluminum, Black, Black&White, Blue, Galvanized, Green, Orange, Red/White/Blue, Silver, Stainless Steel, White, and Yellow. Dimensions vary per model.