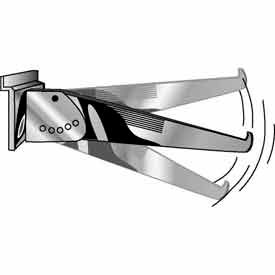 Slatwall Brackets (Bulk Quantities)
Slatwall Panel Brackets Are Used For Retail Merchandise Display Applications.

Slatwall Panel Brackets are solidly manufactured for long lasting durability and dependability. Wide selection available for various display panel support applications. Knife Brackets accept shelf rests and bumpers for glass shelves. Works for Duron™ injection-molded shelves as well as wood and melamine. Available in 8, 10, 12, 14 and 16 inch lengths. Adjustable Shelf Brackets allow shelves to be positioned at five different 50, 70, 80, 90, and 110 degree angles. Available in 12 and 14 inch lengths. Support Arms for longer brackets and brackets designed to support Round or Rectangular tubing also available. Selected finishes include Chrome, Satin Chrome, Shiny Black, Semi-Gloss Black and Semi-Gloss White.