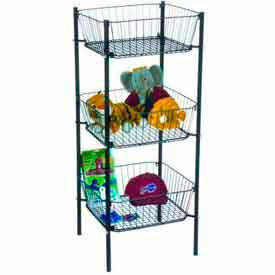 Wire Merchandising & Dump Bins
Wire Merchandising & Dump Bins Are Used For Grocery Stores, Specialty Stores, Gift Shops And Other Retail Applications.

Wire Merchandising Bins are made of solid steel construction with White or Black finishes for long lasting durability and dependability. Wide selection of Square, Cylindrical, Revolving or Tiered design floor standing units for commercial or retail merchandise bulk display and storage applications. Available in various Small or Large dimensional sizes.