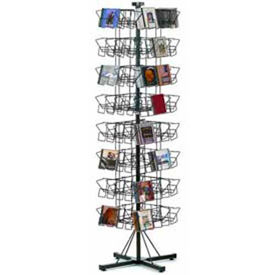 Retail Wire Spinner Racks
Retail Wire Spinner Racks Are Used Fixtures For Easy Viewing And Display Of Commercial And Retail Merchandise.

Retail Wire Spinner Racks are made of steel for long lasting durability and dependability. Racks provide 360° viewing of sales items and merchandise for greater visibility with minimal storage space. Available types include Basket Spinners, Jar Spinner Racks, Floor Spinners, Pocket Wire Carousel, Greeting Card Displays, Hat Racks and more to display DVDs, Jewelry, Greeting Cards, Literature, Magazines, and more. Color finishes are Black, Black/Chrome, Chrome, White/Black, White and Zinc.. Package quantity is 1. Dimensions vary per model.