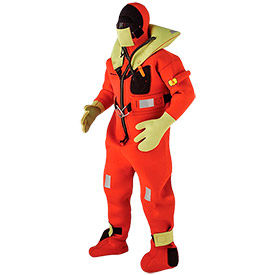 Kent Immersion Suits
Kent Immersion Suits Are US Coast Guard Approved And Comply With SOLAS, MED And TC (Transport Canada) Regulations.

Kent Immersion Suits increase chances of survival in an offshore emergency. Survival rescue suits offer thermal protection to delay hypothermia and feature three-finger mitts for additional body heat retention. Construction is 5mm thick neoprene. Bright orange and black water safety suit includes an inflatable pillow, face mask, mitts and ankle straps of high-viz yellow to increase visibility and improve chances of recovery. Chest pocket houses personal locator beacon and includes an attachment point that accomodates all personal locator lights. Available in sizes Small, Adult/Universal and Oversized.