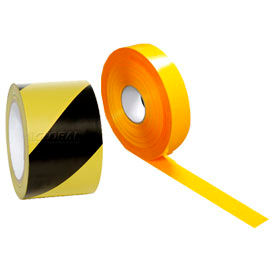 Reflective & Safety Warning Tape/Tape Applicator
Reflective and Safety Warning Tape/Tape Applicator Provides High Visibility Warnings For Industrial, Commercial, and Safety Environments.
Reflective and safety warning tape/tape applicator is designed to mark off traffic areas, work sites, and other hazardous environments. Tape is easy to apply and sticks to most surfaces including concrete, wood, metal, and more. Vinyl construction offers weather resistant for indoor and outdoor areas. Bright color options and patterns increase the tape visibility in night or dark environments. Holds up to a 150' roll of 5" width tape.
Available types are Cold Pack, Floor Marking Tape, Hazard Tape, Marking Tape, Reflective Tape, and more
Sticks to multiple surfaces
Vinyl construction
Bright color options