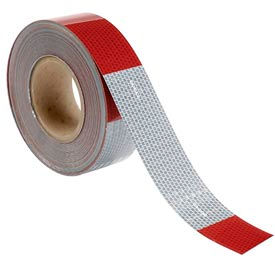 Conspicuity Reflective Tape
Conspicuity Reflective Tape Improves Vehicle Visibility in Dark or Dimly Lit Environments for Added Safety and Security.

Reflective tape can be used on trailers, construction vehicles, and dock lifting trucks to increase overall safety. Most models are constructed of retroreflective material and pressure sensitive adhesive, offering high visibility and durability in a variety of settings. Select models offer brightness equivalent of 750+ candlepower. Lengths are 30' and 150'. Widths are 1" and 2". Color options include Red/White, Yellow Reflective, and White Reflective. Additional specifications vary per model.