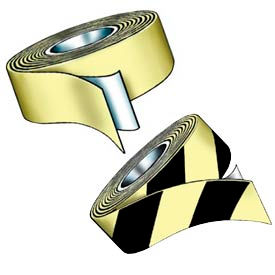 Glow Brite Flexible Tapes
Glow Tapes Mark Aisles, Walkways, And Emergency Equipment For Visibility During a Blackout.

Glow Tapes feature a high tack pressure sensitive adhesive that adheres to any flat, horizontal or vertical surface for long lasting durability. Photoluminescent tapes absorb and store energy from ambient light to be immediately visible in sudden black out conditions. Widths are 1", 2", 3" and 4". Lengths of 30' or 100' are available. Colors are Black/Glow Stripe, Dayglo White, Dayglo White/Black, Pale Green Glow, Pale Green Glow/Black Stripe, Pale Green Glow/Red Stripe or Solid Glow.Additional specifications vary per model.