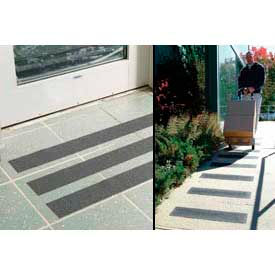 Anti-Slip Floor Tape
Anti-Slip Floor Tape Provides Improved Traction in Warehouses, Schools, or Offices.

Anti-Slip Floor Tape features a deeply textured surface for long lasting durability and longevity. The skid-resistant tape is designed for use on ladders, ramps, loading docks, and walkways. Water and chemical resistance allows for adhesion over a wide variety of surfaces. Select models also offer chemical resistance. Easy to install. Types include Hazard Stripe, Printed, Solid, Solid Glow, and Stadium Grit. Width range is 1-12". Lengths are 2', 30', 50', and 60'. Colors options include Black, Black/Yellow, Yellow, and Pale Green. Additional specifications vary per model.